Jeep's Updated Production Plan into 2014
---
Jeep's Updated Production Plan into 2014
Found this news on the plan for Jeep's production into 2014 - Compass and Patriot are replaced by one new vehicle, Liberty replaced/updated, plus Grand Wagoneer
Jeep's Updated Production Plan Includes Four New Models Covering Most Segments by 2014 - Carscoop
---

______________________________________
2011 Jeep Compass North 4x4 Cherry Red
Options: OWL tires, Sun & Sound, North All-Season
Extras: Magellan GPS, Hidden Hitch Class II, iPAD 2
Traded for '13 Ford Edge


To view links or images in signatures your post count must be 10 or greater. You currently have 0 posts.

______________________________________
Senior Member
Join Date: May 2011
Location: Montreal, QC
Posts: 308
'13 Dodge Dart
---
Official launch of the Dodge Dart (Caliber replacement), based on the Fiat platform modified from the Fiat Bravo (my old UK car) and Alfa Romeo Giulietta, also to be used for the combined Compass/Patriot replacement - what do you think? I quite like it, but likely only in R/T trim
Carscoop: All-New 2013 Dodge Dart Compact Sedan Makes its Official World Premiere in Detroit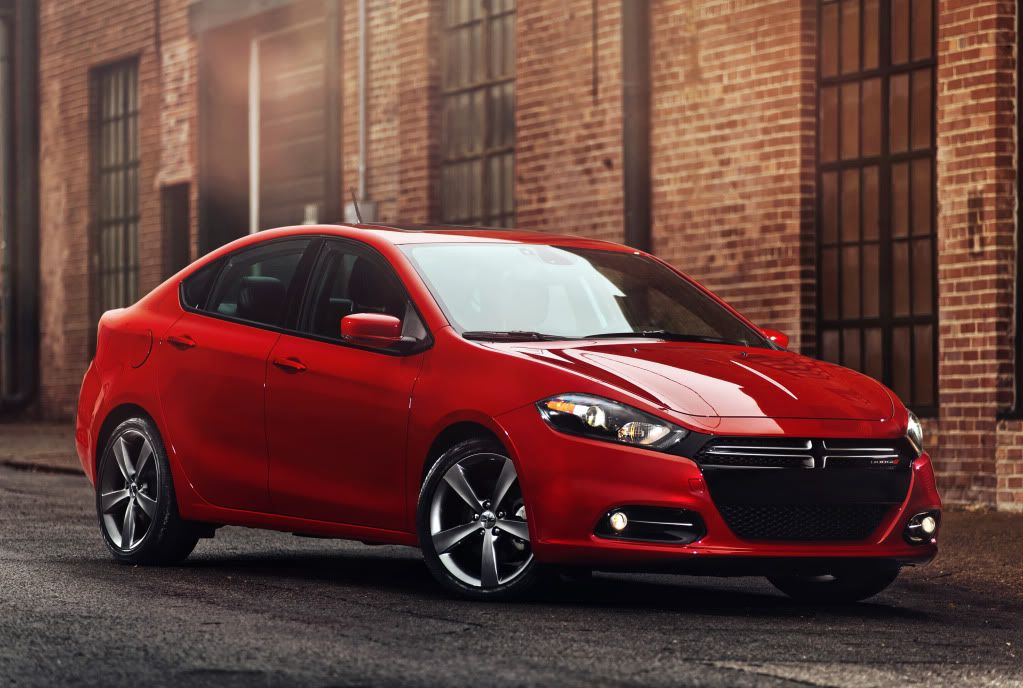 Alfa Romeo Giulietta
Fiat Bravo
---

______________________________________
2011 Jeep Compass North 4x4 Cherry Red
Options: OWL tires, Sun & Sound, North All-Season
Extras: Magellan GPS, Hidden Hitch Class II, iPAD 2
Traded for '13 Ford Edge


To view links or images in signatures your post count must be 10 or greater. You currently have 0 posts.

______________________________________
Senior Member
Join Date: Jun 2011
Posts: 171
The Dodge Dart is another great step towards making a quality vehicle like the Durango. The average cost of car is ~$25K, so gone are days of making a cheapo plastic filled sedan. Manufacturers that can make feature packed vehicles with high quality materials will win.
Member
Join Date: Aug 2011
Location: Toledo,Oh
Posts: 42
Is it just me but the side profile of the Dart looks alot like the old Neons
---
~Jay
To view links or images in signatures your post count must be 10 or greater. You currently have 0 posts.

Junior Member
Join Date: Mar 2013
Location: eastern pennsylvania
Posts: 9
cherokee
---
did anyone see the 2014 jeep cherokee? im sure you have. its an mk right?
not sure if i like the looks or not. any opinions
Super Moderator
Join Date: Feb 2012
Posts: 530
2014 Jeep Cherokee is actually a "KL" loosely based on the Dodge Dart platform. My wife is looking to buy one once they finally hit dealerships, I will post a review once she gets it.
Junior Member
Join Date: Mar 2013
Location: eastern pennsylvania
Posts: 9
kl
---
i ll watch for your review. thanks
Senior Member
Join Date: Jan 2011
Location: california
Posts: 188
I happen to like the plastic door panels on my Jeep Compass. Thick plastic is easy to clean, strong and does not rot or disintigrate like cloth or vinyl sidings. I had a hard time keeping my toyota camry looking new because the door panels started to disintegrate after only a couple of years. If you remove the panel, you run the risk of damaging the clips so when you try to put it back it looks bad. Plastic is great!